Programs by AgataSoft:
Find us on Google+>

AgataSoft Telnet Scripts Runner

Do you know how to automate routine Telnet Script Execution? AgataSoft Telnet Scripts Runner is designed for multiple running of telnet scripts or configs in routers, switches and other devices supported by telnet management.
The program can automate routine procedures, equipment maintenance, software and other actions that can be done using telnet.





for Windows 2000, 2003, XP, Vista, Seven








AgataSoft PingMaster Pro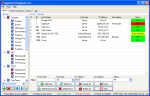 Do you need a simple and powerful tool to monitor your network?
AgataSoft PingMaster Pro is your best solution.